Stanford in the Vale Community Bus
CESSATION OF SERVICE
The Community Bus ceased operation on September 30th 2016, having operated a continuous service from July 1982.
History
A working party was formed in 1981 to investigate the feasibility of setting up a community bus scheme, organised and driven by volunteers, to operate a service from Stanford in the Vale and neighbouring villages to the market towns of Wantage and Faringdon. The first timetabled services commenced in July 1982.
The original scheme operated as a tripartite agreement between the Oxfordshire County Council (OCC), Oxford South Midland Bus Company (OSM) and the Community Bus Committee. The bus was supplied on lease from OSM and financed by OCC. This arrangement continued until 1986 when OSM withdrew their support. With the help of a grant from the Rural Development Commission a new bus was purchased and the service continued with financial support from OCC.
The Community Bus has provided services 83 and 84 on four days a week to link the villages of Stanford in the Vale, Shellingford, Hatford, Charney Bassett, Lyford, Goosey, Denchworth and West Challow with Wantage and Faringdon. Six replacement buses have been purchased over the years of operation.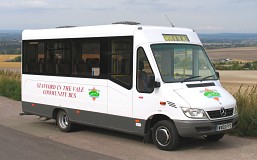 For the past few years the bus has been operating in parallel with Service 67. This has now been increased to an hourly service, six days a week, between Faringdon and Wantage via Stanford in the Vale. The new contract for this service has been tendered using S106 developer money from the housing developments and will run until July 2022. In view of this the committee decided to cease operations at the end of September. Having stepped in to replace the commercial service in 1982 the situation has come full circle. Regretfully, the villages away from the A417 that have been served by the community bus do not now receive any services but their level of usage made it impractical to continue to serve them.
Sincere thanks are due to all the many volunteers who have contributed to the success of the community bus service over thirty-five years.
John Smith
Chairman