An Outline History of Stanford in the Vale
19th Century Stanford
The next century saw considerable growth in the population and consequently in the number of inhabited houses in Stanford, peaking in the 1850s-70s, then declining somewhat until the 1900s. Similar population trends occurred in other, but not all, villages in this part of the Vale.
The Wilts and Berks Canal, connecting the Kennet and Avon Canal, Melksham, Chippenham, Calne, Wootton Bassett, Swindon, and Cricklade, via the North Wilts Canal, and Lechlade, via the Thames & Severn Canal, and Longcot, Wantage and Abingdon, on the River Thames, was constructed in 1795-1810. The West Challow and Uffington sections were completed in 1805-07, and the Canal was officially opened in September 1810. It was prosperous up to the early 1840s, when it began to face competition from railways, and then declined. The canal was abandoned by an Act of Parliament in 1914.
The wave of agrarian disturbances which spread throughout southern and eastern England in 1830 reached Stanford on the 24th November, where there was a wages riot and talk of breaking threshing machines, until the farmers promised to raise wages for agricultural labourers from 8s to 10s a week. At Baulking, rioters had dispersed when offered bread and cheese; in Wantage, a large force of yeomanry and 'specials' were called out to disperse rioters, after some threshing and haymaking machines were broken.
The Great Western Railway's London to Bristol line was opened on the 30th June 1841, following an Act of Parliament passed in August 1835. The siting of a locomotive works at Swindon led to a huge increase in population there, just as the building of a junction and branch line to Oxford (1844) led to a large increase in the population of Didcot. Challow Station (known as the Faringdon Road Station until the Faringdon Branch opened) was within walking distance of Stanford, giving the village better access to the country at large. A branch line from Uffington to Faringdon was opened in 1864, being finally closed to goods trains in the late 1970s. Challow Station's goods service was closed in 1965, the passenger trains service already having ceased in 1960, leaving Didcot and Swindon as the nearest train stations.
Prosperity came to some, while for others life remained hard. The parish registers pass brief witness to the plight of the poor; thus, in 1840, on the 10th January, Thomas Smith, of the Union Work House Faringdon, aged 13 months, was buried, and on the 29th June, Daniel Cox, Faringdon Workhouse, late of Stanford, was buried, aged 68.
Disease could wipe out whole families; a gravestone in St. Denys' churchyard records the deaths of 5 children of Charles and Mary Goulding 'who died in the autumn of the year 1841 of typhus fever' (presumably louse-borne typhus caused by Rickettsia prowazekii).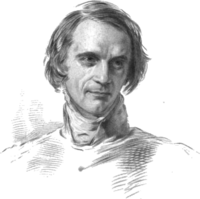 Christopher Wordsworth, youngest brother of the poet William Wordsworth and Vicar of Stanford from 1850-1869; later Bishop of Lincoln.
When the Rev. Dr. Christopher Wordsworth (1807-85), later Bishop of Lincoln, took charge of the parish of Stanford with Goosey in 1851, Stanford enjoyed, with Challow, the 'unenviable reputation of being the most neglected and disorderly locality in the district. It was an "open" parish, i.e. there was no resident squire, but a number of small owners of property, with the consequence that every one that was turned out of any of the neighbouring villages found a refuge there. The overcrowding and lack of decent accommodation produced the usual effects, and drunkenness and immorality were so common as to be almost disregarded'.
Apparently, 'scrofula, low fever, and diseased joints were very common' and the labourer's food 'was miserably poor'; labourers 'wages still ranged from 8s to 10s a week', and 'often comparatively respectable men would be out of work during the winter'.
The Rev. Lewin Maine, in his history published in 1866, paints an interesting picture of a society largely, but not wholly, unfamiliar to us today. For example 'the universal Stanford dinner-hour (lunch) among all classes was half-past eleven, and the hour for tea, half-past three'. This early assembly of children at school was a consequence of the early rising of the inhabitants of Stanford for milking the cows and other dairy-work. On Church Green were located the stocks, a whipping-post, a blind house (prison lock up) and pound, with the stocks and whipping-post 'only lately removed', having been reinstated in 1858. Furthermore, old sports and games (some of which are still commonplace today), were noted, such as backsword play, wrestling, fives, hockey, boxing, cock-fighting, and football, and on Sundays marbles and chuck-farthing. Also present in the village at this time were unemployment, bad cottages, 'coal clubs and clothing clubs', etc.
In 1851 Phillip Pusey Esq and MP, of Pusey House, took 93 labourers from Stanford as well as others from the nine neighbouring parishes up to London, to be introduced to Queen Victoria, as well as to see the Great Exhibition on show at that time.
The agricultural depression affected the Vale in the 1870s. Emigration to America and Britain's overseas Empire was opted for by some, and is mentioned by Violet Howse in her 'Parish Record': in 1847, James Neville, to Wisconsin (5:257); 1853, Frederic Tarrant et al., to Detroit (4:144-145, cxxxviii-cxlvi) and 1872, F. Kimber, to USA (2: 4). Furthermore a gravestone in the churchyard mentions Emily Connor (b. 1885, daughter of Albert Whitfield, 1842-1918) as having died on 10 March 1929 in Chinook, Alberta, Canada and diary entries state that John West emigrated in 1870 from Stanford to Ohio in the USA.