An Outline History of Stanford in the Vale
Reformation and Tudor Stanford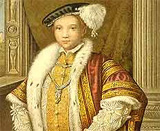 In 1532, the tide of the Reformation lapped Stanford, perhaps best illustrated by the story of the church's rood screen which was removed, replaced, and removed again.
Elsewhere, the dissolution of the monasteries by Henry VIII in 1532 would have had a greater local impact on the general populace, such as at Goosey, which belonged to the Benedictine Abingdon Abbey (which also had extensive lands at Buckland, Charney Bassett, Shellingford and Sparsholt), and at Great Coxwell and Faringdon, with a cell of the Cistercian Beaulieu Abbey.
In 1538, Thomas Cromwell ordered the keeping of Parish accounts, although this was not strictly enforced till the reign of Elizabeth I (1558-1603); the Churchwardens' Accounts for Stanford date from 1552. With Mary on the throne in 1553, the Churchwardens' Accounts refer to the selling of the communion table purchased during the 'wicked time of schism' under Henry VIII and Edward VI, and the high altar which had been removed under Edward VI and replaced under Mary remained until 1561, at which time Elizabeth also ordered the removal of the rood loft which supported statues and other images, contrary to good Protestant observance.
Some reluctance to remove all traces of Catholic tradition is apparent, until centralized authority forced the issue. Stanford was not particularly a centre of Catholic recusancy, although Mary's loyal follower, Sir Francis Englefield (d.1596), who in 1531 had married Katherine Fettiplace, heir to the Manor, left England for Spain in 1559 and was denounced as a traitor by Queen Elizabeth, who seized all his estates. The Manor was granted in trust to Nicholas St. John and George Fettiplace in 1566, after petition by Katherine, but on her death without issue in 1579, the Manor went to Sir Francis Knollys (1514-96), treasurer of the royal household and a noted champion of the Puritans.
The medieval houses of wood and thatch were gradually replaced by stone structures, as the elements of the village that we know today began to form. Rural society in North Berkshire, even at this time (such as in 1590-1620), was fairly mobile, with perhaps up to two-thirds of parish residents not having remained in their place of birth; however, maybe half of those born outside the parish of residence would have come from within a 10-mile radius.