An Outline History of Stanford in the Vale
The Second World War
The Second World War (1939-45) brought great change to Stanford. Ten individuals are recorded on the War Memorial in St. Denys' church as having lost their lives, and these died at sea (commemorated at Portsmouth Naval Memorial and Tower Hill Memorial) or are buried in Stanford, France, Hungary, Italy, Syria and Tunisia. The names of those who died, which appear on the village's War Memorial, are:
Frederick J. Keene – Able Seaman, 27th August 1943
Edwin Patrick Keene – Sergeant, RAF, 20th October 1944
William Richard Parsons – Trooper, 7th August 1941
Cyril L.W. Popplestone – Flying Officer, 27th December 1942
Albert Rixon – Gunner, 15th January 1943
Frederick Spinage – Able Seaman, 2nd July 1945
William Williams – Gunner, 7th June 1944
Henry Wolters
Sidney J. Perry – REME, 19th August 1946
Anthony Hilary Harrington Wallach – Gunner, 26th December 1942 (not on the memorial)
Download a detailed list here, with thanks to Valerie Andrews.
There was an active Home Guard in 1940 under Major Douglas Maitland King of Orchard House. Men and women worked the land, in reserved occupations for food production, or in the Land Army. Evacuees had arrived from London in the early phases of hostilities. Some Italian and German prisoners of war were present in and around the village, working on farms and in the Shellingford crossroads quarry. British Army personnel were billeted in and around the village, and with this, as well as later military operations, came the construction and requisition of buildings to help with the war effort. This included: the Institute, a wooden building erected in 1927 adjacent to the school, requisitioned as a canteen and previously used for village social activities; an air raid shelter and accommodation block adjacent to the west of the A417, still standing to this day; a water storage pool and air raid shelters, superseded by Tyrell Close; and a corrugated iron aircraft hangar, adjacent to Shellingford crossroads; as well as other buildings in the area which do not exist to this day.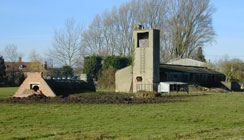 An air raid shelter and accommodation building which can still be seen from the road that runs through Stanford (A417).
Image © Peter Dorward, www.pixture.co.uk - used with permission
In autumn-winter 1941, No. 3 Elementary Flying Training School (EFTS) began operations, using de Haviland Tiger Moths, at Shellingford airfield, most of which (particularly the administration and accommodation blocks) were on Stanford parish land, as stated above. There was one fatal crash of a Tiger Moth, with one of the two pilots surviving, which came down near the RAF hospital in Cottage Road. Pre-glider flying training by the army took place in 1942-43.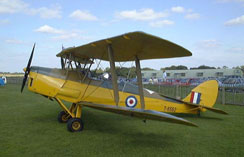 One of the Tiger Moths that flew from Shellingford airfield - and still flying today with Sywell Aero Club near Northampton.
On the 19th of September 1940, air raids on Central Southern England also resulted in large scale property destruction in Hatford and the deaths of three children, two of whom were evacuees. In a separate incident on the 8th April 1945, a loaded RAF Lancaster bomber crashed at Lyford, causing property damage in Stanford.
During the months leading up to the D-Day landings, in 1944, American troops were based in the village. The soldiers were billeted in stables to the side of the Bear House and officers were quartered to the rear of Cox's Hall. During their time in the village, they treated the local children to imported chocolate and chewing gum. However, they also caused problems for those living in the villages. The heavy vehicle movements around the area affected sewer and drainage systems, and in some instances caused their collapse. It was also noted by the villagers at the time that the Americans were known to be courting the local girls, some of which took place on the green metal bench under the tree to the front of Bear House. Their presence in the village was a dramatic cultural shock.
In 1946, Royal Netherlands Air Force pilots trained at Shellingford. The airfield closed formally on the 31st March 1948, the site later, in about 1949-52 to as late as 1960, being used as a dormitory for Irish labourers employed by Hipperson's and Wimpey's Civil Engineering Contractors and other companies, who were bussed out to sites at AERE Harwell and the airfields at Fairford and Brize Norton, and then for a while by US military personnel. Later still, the site was developed as the White Horse Business Park.