An Outline History of Stanford in the Vale
Domesday Stanford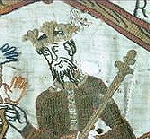 At the time of King Edward the Confessor (1042-66), the manor was held by Siward. This was most probably Siward Ba(i)rn, a Northumbrian leader who held much land throughout 'England', in Derbyshire, Lincolnshire, Norfolk, Nottinghamshire,Yorkshire, Berkshire (also including West Lockinge and Greenham), Gloucestershire (including at Lechlade) and Warwickshire.
The large manor of Stanford, as well as Lechlade, had parts of their geld remitted by the Confessor, indicating that Siward was in the king's favour. Orderic Vitalis tells us that he submitted to William 'the Conqueror' at Barking in 1067, but, according to Florence of Worcester, he joined the opposition of Earl Morkar, Bishop Aegelwine of Durham, and Hereward 'the Wake' of Bourne, Lincs., on the Isle of Ely. Siward was captured by the Normans at Ely in 1071, released from imprisonment by William in 1087, and on William's death re-imprisoned by his son William Rufus.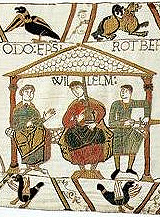 The Manor was acquired by Henry de Ferrers in about 1070, when he 'inherited' other lands of Siward Barn, thus giving Siward ample justification for joining in the rebellion against the Normans. Previously, de Ferrers had acquired lands belonging to Godric the sheriff, probably in 1055-67, and to Bondi the staller, about 1069. Henry was the son of Walkelin, lord of Ferrieres St. Hilaire in Normandy. The 'Domesday' survey of 1086 puts him in possession of estates in 14 counties, chiefly in Derbyshire, although his principal seat was at Tutbury Castle, Staffs. He was a Domesday commissioner in Worcestershire; later, with his wife Bertha, he founded Tutbury Abbey.
Of local manors, Henry held Charlton, (South) Denchworth, Fyfield, (East) Hendred, Kingston (Bagpuize), (West) Lockinge, Pusey and Sparsholt. The Domesday reference to Stanford manor in 1086 would indicate that its value had declined from 30 hides to 6 hides, but from the number of villeins (villagers, 21), borders (smallholders, 22) and serfs (slaves, 7) quoted we can estimate the population to be about 180-190 people. Two water mills were also noted, and until recently were thought to be the same as the mills which operated in the village until the 20th century, i.e. Stanford Upper (Old, Bow) and Lower (Ock) Mills. Recent archaeological works at Lower (Ock) Mill has thrown doubt on this assumption because no cultural material pre dating the 17th C has been found in test pitting: every other test pit in the village has produced some medieval material however small. From recent examination of aerial photographs and LiDAR data of the area, it is more likely that this mill was situated further east and upstream (on land to the rear of Ock Meadow). Furthermore, documentary research indicates that Stanford Upper (Old, Bow) Mill was constructed in the 18th C, so is not one of the medieval mills either. Instead, the previously unknown site of one of the Domesday mills has been identified just off Frogmore Brook and is associated with a leat system and mill pond.