An Outline History of Stanford in the Vale
Newsletters
The Parish Newsletter, delivered each month to every house in the village, was begun in January 1969 by the Rev. H Selwyn Fry to replace the defunct Deanery Magazine. It was intended to be a genuinely "parish" leaflet, not limited to strictly "church" affairs. In its first year it reported on the activities of St. Denys' Church, Goosey and Hatford Churches, the Congregational Church, the Summer Festival, Parish Council, the School, Mothers' Club (1963-?), Women's Institute, Mothers' Union, Young Wives Group, Silver Threads, Football Club, Scouts, Guides, Cubs, Brownies, The Guild of St. Denys (1969-73), and various events in the parish. When the Rev. Fry left the village in 1973 the Newsletter was produced by Joan Greenwood and Cicely Corber, later by subsequent vicars with Mrs. Corber, then Wing-Commander Geoffrey Bennett and then Lisa Ryan.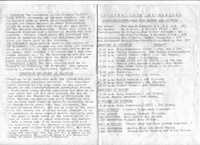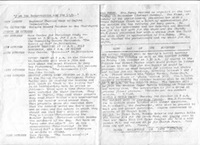 1978 Parish Newsletter (click for larger images)
The St. Denys' Church, Stanford in the Vale, Weekly Newsletter began about 1994, having developed from the weekly programme given to those attending church services.
A Parish Council Newsletter was begun in 1994 to assist communication of Parish Council business, and upon the election of a new council was relaunched in June 1995 as Stanford in the Vale Parish Council News Update.
The Stanford Interest Group has circulated a broadside letter/newsletter at irregular intervals since about 1993. The Stanford in the Vale Primary School circulates a newsletter to parents of school pupils during term time, and the Stanford in the Vale Playgroup and Toddler Group Association has produced Playgroup News since 1993 (replacing an earlier newsletter).